Summer is right around the corner, and while you're stocking up on sandals, bathing suits and planning your next weekend getaway — you might want to consider buying some new sunscreens.
Consumer Reports just released their annual list of top sunscreens, with a few important reminders. The number on the bottle isn't always accurate: Of the 58 lotions, sprays and sticks rated by Consumer Reports this year, 20 of them tested at less than half of the SPF listed on their label. For example, one sunscreen they tested was labeled SPF 30, but the UVB protection it actually provided was between 10 and 19.
There were some winners, though. Here are their top rated 15 sunscreens: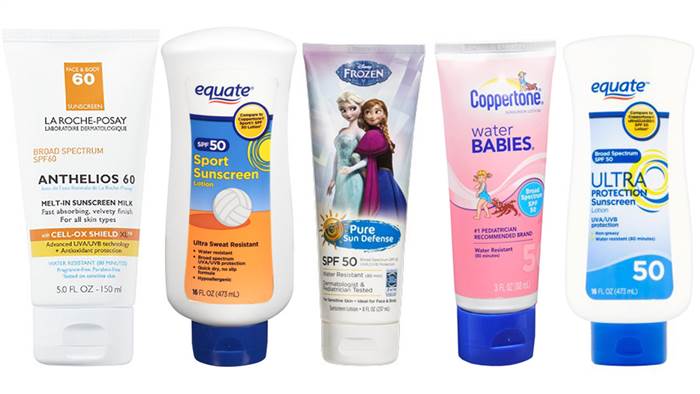 La Roche-Posay, Anthelios 60 Melt-in Sunscreen Milk, $36
Equate, Sport Lotion SPF 50, $5
Pure, Sun Defense Disney Frozen Lotion SPF 50, $6
Coppertone, WaterBabies Lotion SPF 50, $12
Equate, Ultra Protection Lotion SPF 50, $8
Ocean Potion, Protect & Nourish SPF 30, $8
Aveeno, Protect + Hydrate Lotion, SPF 30, $8
Up & Up, Sheer Dry-Touch Lotion, SPF 30, $5
Coppertone, Clearly Sheer Lotion, SPF 50, $7
Neutrogena, CoolDry Sport Lotion, SPF 30, $9.50
Neutrogena, Ultra Sheer Dry-Touch Lotion, SPF 45, $9.50
Hawaiian Tropic, Sheer Touch Ultra Radiance Lotion SPF 50, $10.50
Well at Walgreens, Baby Lotion, SPF 50, $3
Coppertone, Sport High Performance Lotion, SPF 50, $12
If you can't find one of the products listed above, Consumer Reports recommends using a sunscreen with an SPF of at least 40. It should also contain ingredients like avobenzone rather than "natural" ingredients.
Looking for a sunscreen you can spray? Trader Joe's Spray SPF 50+ received an excellent rating, along with Banana Boat SunComfort Clear UltraMist Spray and Equate Sport Continuous Spray SPF 30. Though there are a few things to keep in mind when using a sunscreen spray.
"You have to hold the nozzle close to your skin, and don't spray the product into the wind. You often see parents running behind kids on the beach, spraying. That's not an effective way to apply sunscreen," Joshua Zeichner, M.D., director of cosmetic and clinical research in the dermatology department at Mount Sinai Hospital in New York City said, in the report.
You should also rub the sunscreen in after you spray it on — which some people don't do.
Regardless of what kind of sunscreen you choose, follow these steps to avoid getting burnt:
Shake the bottle. This helps to distribute the ingredients throughout the bottle.
Apply sunscreen BEFORE you go outside. Aim for 15 to 30 minutes before.
Reapply every two hours. And whenever you get out of the water, no matter how much time has passed, or if an ingredient is water resistant.
Remember to apply sunscreen to often-forgotten parts of your body like your scalp, toes, ears and more. Wear a hat when you can!